Peppered Buffalo Ranch Shrimp Pizza #RSC
Food.com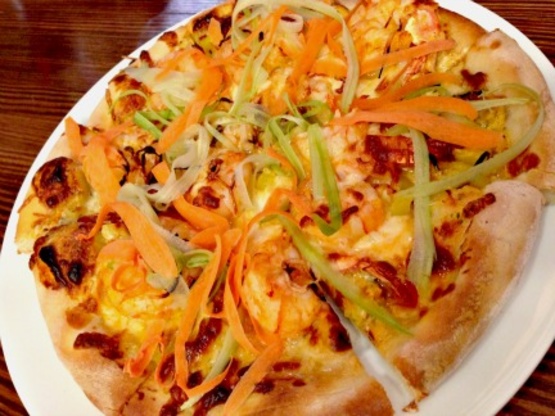 This easy to make, delicious cheesy buffalo shrimp pizza will be a big hit with your friends and family...what's the secret ingredient behind all of this savory spicy goodness? Hidden Valley Ranch Seasoning mix, of course!

This is really good pizza with different flavors then the usual pizza varieties. I made this for our pizza night and it was a HUGE hit with everyone. I will be making this again (soon) as we all loved it. Thank you for sharing.
15

large shrimp, peeled and deveined

73.94

ml buffalo style hot sauce, divided

118.29

ml plain Greek yogurt

177.44

ml blue cheese, crumbles

28.34

g envelope Hidden Valley Original Ranch Seasoning Mix
cornmeal, for dusting about 1-2 tablespoons

453.59

g ball traditional pizza dough

177.44

ml sliced mild banana pepper ring, drained and patted dry

473.18

ml shredded mozzarella cheese

59.14

ml thinly sliced shallot

78.07

ml shredded parmesan cheese

1

stalk celery, shaved with a vegetable peeler

1

large carrot, peeled and shaved with a vegetable peeler
Preheat oven to 475 degrees F. If available, place a ceramic pizza stone in the oven on the lowest rack. If no stone is available, place an un-greased baking sheet upside down on the rack.
In a medium bowl, toss shrimp with three tablespoons buffalo style hot sauce and set aside.
In another bowl, combine Greek yogurt, crumbled blue cheese and Hidden Valley Original Ranch seasoning mix. Add remaining 2 tablespoons buffalo style hot sauce and stir again to combine. Set aside.
Sprinkle a pizza peel or the back of a large baking sheet with cornmeal.
Roll out or stretch dough to a 12" round and place on prepared cornmeal covered pizza peel or baking sheet. Spread ranch dressing blue cheese mixture evenly over the dough, allowing about 1" uncovered for the crust on the edge. Sprinkle pizza with banana pepper rings and sprinkle on one cup mozzarella cheese.
Place shrimp randomly over the cheese in a single layer and sprinkle with sliced shallots. Top shrimp and shallots with remaining mozzarella cheese, parmesan cheese and slide pizza on to preheated baking sheet or pizza stone.
Bake for 12-15 minutes or until cheese is melted, shrimp is cooked and crust is lightly browned as oven temperatures will vary.
When cooked, carefully slide pizza off the stone and back on to the pizza peel (or inverted baking sheet). Allow pizza to rest for 5 minutes. Sprinkle pizza with shaved celery and carrots before slicing in to 8 slices. Serves 4 as an entrée or 8 as an appetizer. Enjoy!