Pepper & Vanilla-Marinated Shrimp (Papantla Style)
Barb G.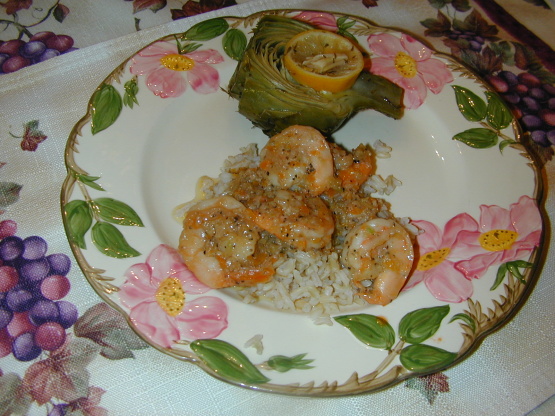 This unusual (but I think delicious) recipe is purported to originate in the vanilla-producing regions of eastern Mexico. It calls for the use of pure vanilla extract; artificially flavored vanilla extract would be a poor substitute for the real thing. It is very peppery, which we like, but if you want less heat I would begin by cutting the pepper called for in half. Serve over lots of rice, this makes a lovely sauce! Prep time DOES NOT include minimum 1 1/2 hr marinating time, so plan ahead.

I think this may have been the first time I used Vanilla to cook with other then baking. Very good I think it might have been better with maybe only 3 teaspoons of vanilla and I only used about 1/4 the peper. BUT it was good
In a non-reactive bowl large enough to hold the shrimp, combine the onion, carrot, celery and garlic.
Add 3 teaspoons of the vanilla extract and the white pepper; mix well (this will be a fairly "dry" marinade).
Add the shrimp, and mix well, ensuring that each piece is covered with the marinade; refrigerate for 1 1/2 to 3 hours.
Melt the butter in a large skillet with the olive oil and sauté the shrimp mixture, just until the shrimp are pink on both sides.
During this sauté period, add the remaining 1 tsp vanilla extract and mix well into the pan juices.
When the shrimp are pink, transfer them to a bowl (leave the vegetables in the skillet) and set aside.
Add the wine and chicken broth to the skillet and simmer briskly and stirring occasionally until the liquid has reduced considerably and the sauce has thickened (about 20 minutes).
Return the shrimp briefly to the sauce only just to re-heat them through.
Serve all over mounded cooked rice.