Bergy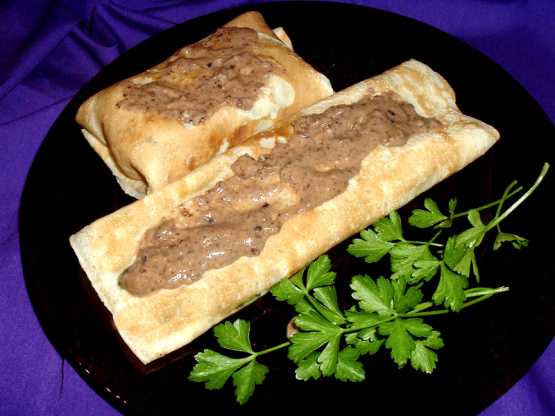 Serve this delicious steak, albeit, non-conventional method, with onion rings, cremini mushrooms sauteed in red wine, parslied new potatoes, Suggested wine - Beaujolais Nouveau; Cabernet Sauvignon, or your favourite dry red vintage.

Top Review by Bergy
This recipe may look a bit complicated but it is really quite easy to make there are 3 steps make the crepes, do this the day before if you wish, then cook the steaks and make the sauce - The concept is great- a crepe instead of a pastry cover and the flavor is wonderful.The herbs in the crepes are lovely and the sauce very subtle flavors. I found the crepe batter to be too stiff to easily pour so I added an additional 1/2 cup milk. 3/4 cup batter per crepe and it was just the right amount for 4 crepes. One crepe I put in the whole steak as called for in the recipe the others I sliced the steak first being very careful not to lose any of the meat juices and I liked the sliced best. I used Madagascar canned green pepper corns for the sauce. Fabulous elegant meal, flavor 5 star plus. Thanks Toolie (I took off one star having to adjust the crepe batter - I measured very carefully perhaps it was my flour that caused the batter to be too thick)
TO MAKE THE CREPES: Combine the flour, oil, salt and half the milk.
Mix well.
Beat in the remaining milk, a little at a time.
Add the eggs and continue to beat until the batter is very smooth.
Add freshly ground white pepper, parsley, chives and nutmeg and stir to blend thoroughly.
Allow the batter to stand for ONE HOUR.
Heat the butter in a pan and make 4 crepes, as required.
TO PREPARE THE STEAK: Season the steaks with the crushed peppercorns.
Fry in half the quantity of butter: length of time depending on personal preference.
When ready, remove the steaks and keep warm.
Pour off all the excess fat from the pan and add the red wine.
Allow to boil until almost completely reduced.
Lower heat, add the cream and continue to reduce by half.
Add the remaining butter and the green peppercorns.
Stir well, but do not allow the sauce to return to boil.
When serving, wrap each steak in a crepe.
Pour the sauce over the the"pouch" at the very last moment.
Serve immediately.