Pepper Steak With Potatoes
R.Lynn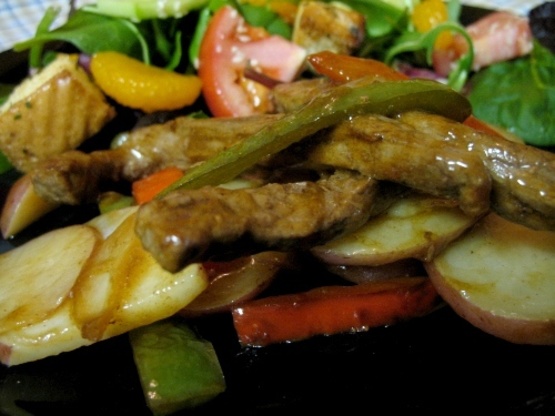 Often, I read my collection of cookbooks and try something new when I'm not trying something new from Zaar that is. This is from the 2003 Quick Cooking Annual Cookbook and I had to try it only for the fact that pepper steak with potatoes sounded interesting. It is pretty good. I think any cut of steak you could thinly slice will do here. It's a nice family meal.

Excellent recipe! Thank you for this. :)
Place potatoes in a glass bowl and cover with water. Microwave for 10-15 minutes or until tender.
Meanwhile, in skillet, saute beef and garlic in oil until no longer pink. Remove and keep warm; drain drippings.
In the same skillet, saute green pepper and onion until crisp tender.
Return beef to the pan.
Add potatoes and pepper, heat through.
In a small saucepan, combine cornstarch and broth until smooth. Bring to a boil; cook and stir for 2 minutes or until thickened.
Drizzle over meat mixture and toss to coat.