Ycooks2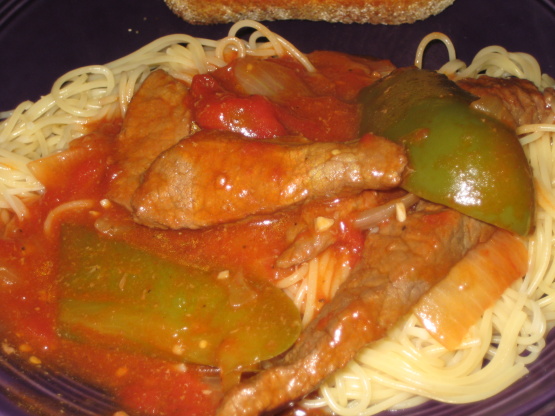 This was my sister-in-law's recipe. It's a staple around here. Easy and tasty.

YUM! This was delish! Hubby and 2 kids (4 & 5) loved it. First time all week there was no complaining about food! This rating is for seasonings and flavor, but I had to make a major substitution bc I'm allergic to bell peppers (we used mushrooms). I also followed another reviewers recommendation and used about 1 1/2 tbls cornstarch. Thanks for a great, easy recipe!
Cut round steak into thin strips.
Brown in sprayed skillet or in 2 tbs. oil.
Add onion and garlic and saute another 5 minutes.
Add tomatoes; cover and simmer about 30 minutes.
Add green peppers; simmer additional 20 minutes.
Mix cornstarch into soy sauce; stir into meat and tomato mixture and stir until thickened and bubbly.
Serve immediately over hot cooked white or brown rice.