Pepper Seared Tuna Steaks
Mike417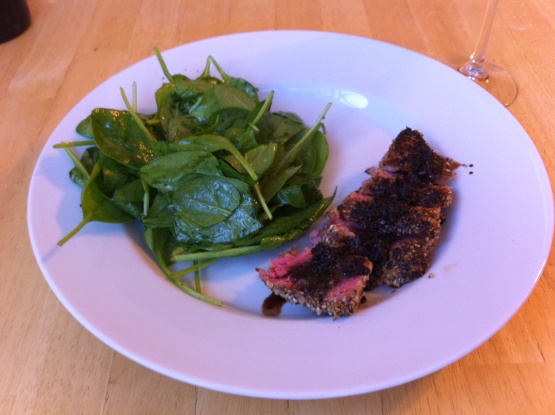 This spicy pepper coating and asian-style sauce prove that you can't go wrong with the simplest of ingredients. Add a touch of chili-garlic paste to the sauce for a hint of fire. This recipe is altered from original Bon Appetit.

Top Review by Skate
This was very good, although I would use probably half of the pepper suggested. I do enjoy spicy food, but this was a little too peppery for my and my husband's taste buds. I agree, the sauce is excellent on other things... I served the tuna with a mixed baby green lettuce side, and sauteed snow peas, and they both got some of the sauce on them and it was delicious! I also served broiled, parmesean,covered thick sliced tomato with it. My husband asked me to make it again sometime, and I agree, it is worth doing again, low cal, tasty, and easy. Try it!!!
Combine black pepper and sesame seeds in bowl.
Press tuna steaks into mixture, until coated.
Heat sesame oil over medium-high heat.
Add tuna steaks and sear about 1- 1 1/2 minutes each side (I like mine rare in the center, longer if you prefer well-cooked tuna).
Transfer steaks to tented aluminum foil to keep warm.
Add a touch more oil to pan, then add soy sauce and sherry.
Add garlic and most of green onion (reserving some of the tops).
If too much has boiled off, add a bit of red wine if necessary.
Reduce heat and simmer until mixture is slightly reduced, scraping up any brown bits, about 1 minute.
Spoon sauce over tuna steaks, and sprinkle remaining green onion on top.
Note: if you want to make more of this sauce, it tastes fantastic, and goes great with rices, potatoes, roasted veggies, etc.
In the photo, I cross-cut Italian bread, drizzled with olive oil and briefly toasted.