Buffycar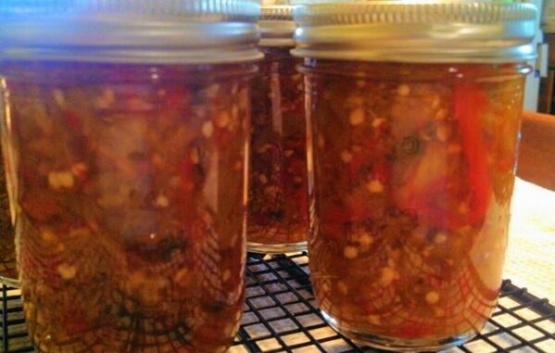 This is a wonderful way to utilize an abundant crop of banana peppers that can be found this time of year. I love pepper jelly, and this has a very similar taste. It is great with cream cheese and crackers! It makes a fun and impressive hors d'oeuvre. We've also began using as a condiment on hot dogs, polish sausages, ham sandwiches and more. I've caught my fiancé eating it straight from the jar.! It is great with pork chops and I want to try marinating chops in the juice. I made 8 half-pints last year and friends and family requested that I make much more this year. I've made four batches so far this season. I adapted this recipe from a pepper relish recipe that was in the Blue Canning Book. The original recipe included apples and cabbage. My version is all peppers and just the right combination of sweet, sour, and hot. It's just slightly hot.

Excellent. Love it on sandwiches and with meats. Looking for an old recipe I had for green pepper slices and they were in a oil based sweet/sour flavored liquid. I canned it in jars and though I got it from the Bell Blue book but cant find the recipe. If anyone has that recipe, please post it. aloha. ck
Combine chopped peppers and salt in a large bowl. Let stand two hours. Drain.
Combine sugar, vinegar, and mustard seed in a large saucepot. Cut two slits in the two additional jalapeno peppers and add to vinegar mixture. Bring to boil.
Reduce heat and add vegetables, simmering 10 minutes.
Remove whole jalapeno peppers. Pack hot relish into clean jars, leaving ¼-inich head space. Adjust two-piece caps.
Process 10 minutes in a boiling-water canner.