Pepper Jack Stuffed Chicken
Barb G.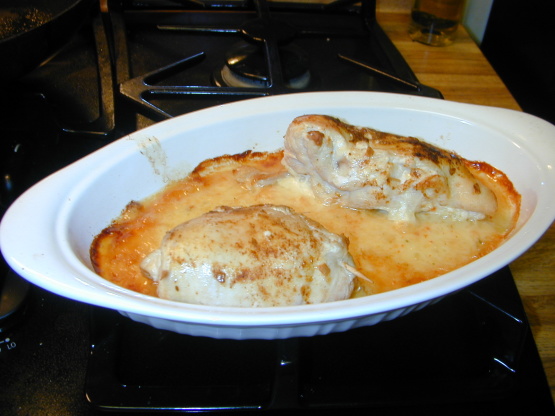 This is a very easy yet elegant dish in presentation. You will definitly impress the ones that you serve. A very unique and tasty dish.
Cut cheese into two 2-1/4 in x 3/4 in strips.
Flatten chicken with a meat mallet.
Place a strip of cheese down the center of chicken.
Fold chicken over cheese and secure with toothpicks.
Rub seasoning over the outside of chicken.
In a large skillet brown chicken on both sides.(once the chicken has fried on one side you can remove the toothpick).
Transfer chicken to a greased baking dish.
Bake uncovered at 350 for 25-30 minutes or until juices run clear.