Pepper Jack Cheese Sticks
NELady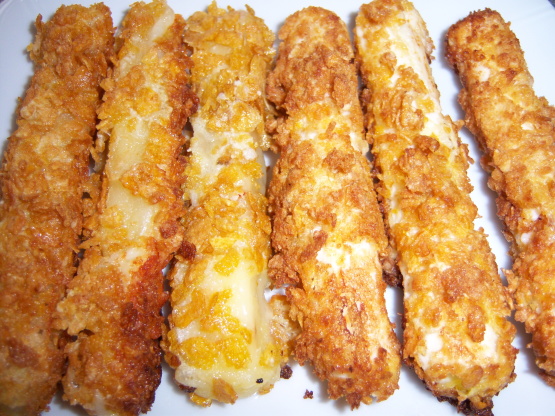 I like these cheese sticks because they are crisp and the creamy filling gives them a little kick. A great appetizer.

Top Review by ncage
These were the bomb!! You know when your making a recipe and you hope the recipe is going to somewhat close to what you get when you order out. Well this is one of the few times they were actually better. Yes better. I was worried the batter would just fall off but it didn't which i will explain below. Tip: If you can't get the corn flakes to stick on the first go around and then dip it/them in egg again and roll it again in corn flakes. I made mine in the morning and then froze them for that night. I don't know if that made everything stick better only know it worked out well. The corn flakes made it extra crispy and it was awesome. I served it with marinara but i can see homemade guacamole as being awesome.
3

cups flour

3

eggs, beaten

3

cups crushed corn flakes
oil, for deep-fat frying
salsa, if desired
guacamole, if desired
Cut cheese into 2 3/4-inch by 1/2-inch sticks.
Place flour, eggs and cornflakes in three separate shallow bowls. Coat cheese sticks with flour, dip in egg, then roll in cornflakes until well coated. Let stand for 5 minutes.
In an electric skillet or deep-fat fryer, heat oil to 375 degrees. Cook cheese sticks in batches for 30 seconds or until golden brown. Drain on paper towels.
Let stand for 3-5 minutes. Serve with salsa and guacamole, if desired.