Pepper Garlic Beef Kabobs
loof751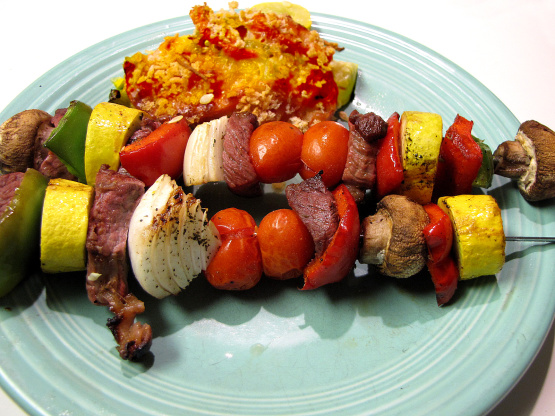 The easy homemade marinade adds flavor and zest to this grilled kabob recipe from Land O Lakes.
Heat gas grill on medium or charcoal grill until coals are ash white.
Combine all marinade ingredients in 2-quart saucepan. Cook over medium heat, stirring occasionally, until butter melts and mixture comes to a full boil. Remove from heat; let cool 5 minutes. Reserve 2 tablespoons marinade; set aside. Stir sirloin pieces into marinade in saucepan; marinate 15 minutes. Remove sirloin pieces from marinade; discard saucepan marinade.
To assemble kabobs, alternately thread sirloin pieces and vegetables onto skewers. Place kabobs onto grill. Grill, turning and brushing occasionally with reserved marinade, until sirloin reaches at least 145°F or desired doneness (10 to 15 minutes).