Debbwl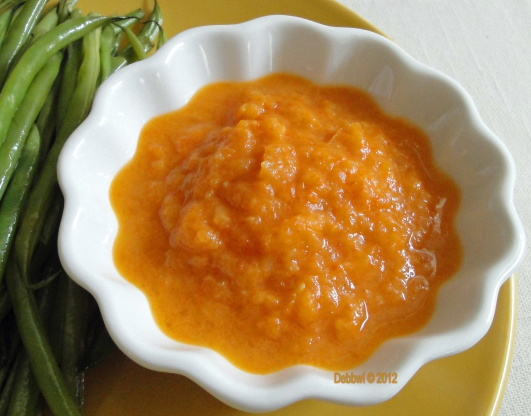 Executive chef Michel Stroot at the Golden Door uses red and yellow pepper coulis side by side in plate presentations to add color, moisture, texture, and flavor. If you're in a hurry, instead of roasting fresh peppers, you can use 1 1/4 cups rinsed, drained canned roasted peppers. You can make the coulis ahead of time; cover and chill up to 3 days or freeze up to 6 months. Serve with Grilled Portabellas With Couscous

Top Review by Debbwl
Such a simple, healthy and tasty sauce! I made this to go with roasted green beans but think it would also be great with grilled meat or on a grilled eggplant sandwich. I made as written using an orange bell pepper, thanks for the post easy and healthy post that I will be making again.
Rinse 1 red or yellow bell pepper (about 10 oz.); pat dry.
Set pepper in a 9-inch pie or cake pan and broil 3 to 4 inches from heat, turning as needed, until charred on all sides, about 15 minutes total.
Let cool.
With a small, sharp knife, remove and discard skin, stem, and seeds. Coarsely chop pepper and place in a blender or food processor.
Add 1 tablespoon water and 1 teaspoon olive oil; whirl until smooth.
Add salt and cayenne to taste.
If coulis is thicker than desired, thin with 1 to 2 more tablespoons water.