VickyJ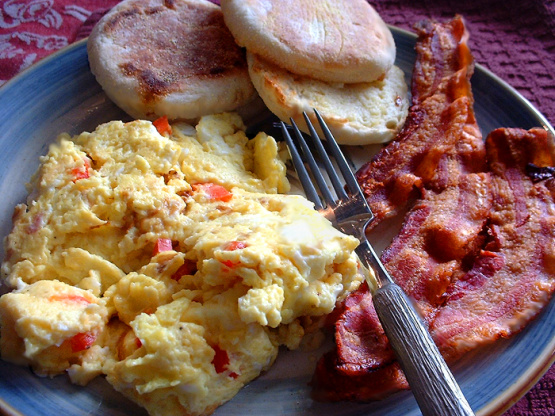 This is an easy breakfast and also very delicious. It takes little time to prepare and cook. Cutting up the pepper takes the longest.

One of my boys (student) came home after 10pm. He was tired, hungry and cranky. Didn't want dinner leftovers, so in the time he took to take a shower, I whipped this up. It so easy! I fine- chopped a piece of red and one of green peppers, and added another egg. Warmed up a pita bread, sliced in half and had plenty of eggs for stuffing. By the time, he was out of the shower, it was chow down time...and a much better mood! Thanks Vicky, for keeping it real!
Whisk together eggs, milk, salt and pepper.
Pour in buttered skillet.
Add green pepper (you can use other peppers too).
Turn until just set, then add cheese.
Slide out onto plate.
Serve with toast of choice.