Pepper Cheese Breadsticks (Bread Machine)
CandyTX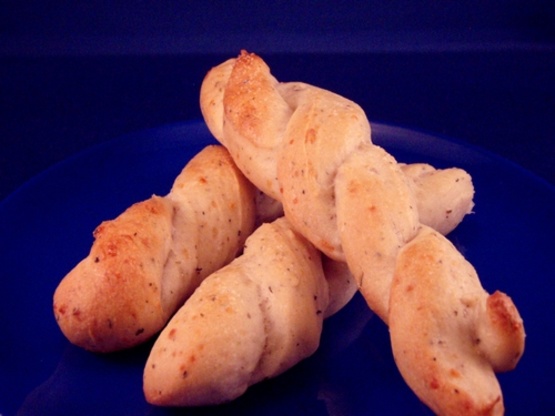 This recipe was taken from Better Homes and Gardens magazine, I make these with my Kitchen Aid stand mixer with a few amount adjustments, prep time is only estimated depending on how long your dough cycle is, these are very good!

WOW.... These bread sticks are SOOO... good. Husband asked me "did you make these??" lol. However, I managed to burn the first batch because the oven was too hot at 200 Celsius (and middle still doughy). Reset the oven around 170 and 180, then it came out perfectly :-). Thanks so much for the recipe.
Add the first 9 ingredients to a 1-1/2-2 pound bread machine according to the manufacturer's direction.
Select the dough cycle.
When the cycle is complete remove the dough, punch down and let rest for 10 minutes.
Divide the dough into thirds.
On a lightly floured surface roll each portion into a 14x10-inch rectangle.
Using a pizza cutter or a sharp knife, cut the dough lengthwise into 1/2-inch wide strips.
For each breadstick pick up 2 strips together and twist several times; press ends together.
Place the breadstick dough about 1/2-inch apart on a greased baking sheet.
Stir the egg and water together, then brush onto the breadsticks.
Sprinkle with pepper, salt OR cheese.
Bake in a 400°F oven for about 10-12 minutes or until golden brown.
Remove from baking sheet, then cool on wire racks.