Pepper Cheese and Pancetta Chowder #5FIX
dlcavil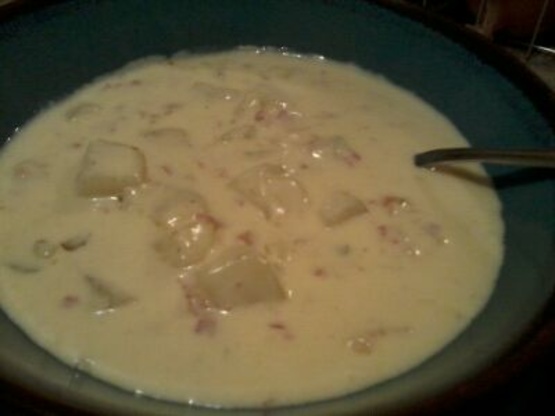 5-Ingredient Fix Contest Entry. This recipe is creamy with a hint of spicy. This is a nice soup to have on a wintery day, but can be enjoyed any time of the year. Very easy to make, thanks to Simply Potatoes.
Dice pancetta bacon and cook in a non-stick skillet over medium-low heat until crisped. Remove bacon from skillet onto a paper towel and reserve oil.
Prepare potatoes according to package directions in pancetta oil, except don't cook as long as required. The potatoes need just a little browning. Remove potatoes from skillet and drain on paper towel.
Pour heavy cream into a heavy bottom sauce pan. Add potatoes to cream and continue to warm/cook over low heat for 20 minutes, stirring frequently. Add pancetta and about 4 ounces of the pepper cheese. Finally, add chicken base and continue to warm over low heat, stirring constantly, until cheese has melted. Remove from heat and serve.
*Taste soup before adding chicken base flavoring. The pancetta is salty and adds a lot of flavor, so if you're watching your salt intake, you may want to leave out the chicken base.
Recipe makes 4 servings.