Parsley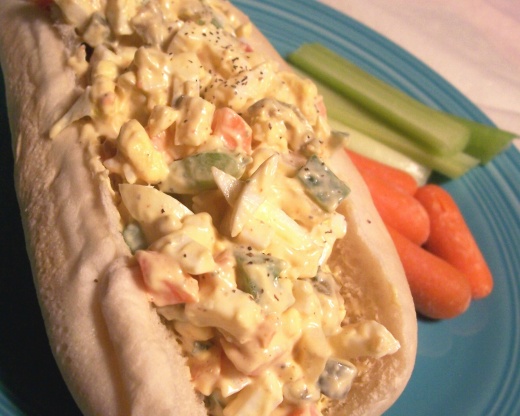 Great on a bed of lettuce, or in a pita or roll. Has a nice creamy yet crunchy texture.

Five outstanding stars for this little gem of a recipe. As the intro said, this is creamy and delicious and it delivered! I "pepped" up the mixture a wee bit more with the substitution of jalapeno-stuffed green olives for the pimiento-stuffed. I did cut the recipe down considerably as I was only making this for two people. Much of the spices I used the same amount of in the egg mixture though. The ingredients all complement each other well, and I especially love curry powder in my egg salad and tuna sandwiches. This was served on toasted light whole wheat sourdough and can't wait to make it again. Next time, I won't be so lazy and will add fresh parsley to the mixture. Thanks for sharing your very yummy recipe!
Peel cooled hard-boiled eggs and chop them. Place the chopped eggs in a large mixing bowl.
Add all remaining ingredients to mixing bowl and stir well. Chill and serve in pitas/rolls or on beds of lettuce.