Pepparkakor (Swedish Ginger Cookies)
Dalloway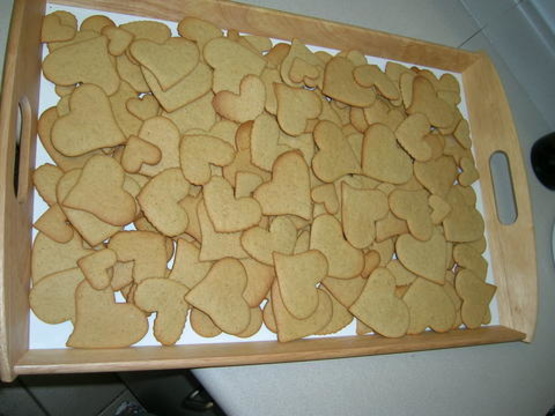 This is a recipe for traditional Swedish ginger snaps, originally from a family friend of my grandmother. Our family makes these cookies every year for our Christmas Eve celebration. They are traditionally cut into heart shapes, but we experiment with flowers, angels, bells, stars, etc. Note: requires overnight refrigeration.

I always buy a tin of these from World Market every year. I had never thought of making them myself. A friend mentioned she had the recipe somewhere, but I decided to find it myself. I thoroughly enjoyed baking these! Just the right amount of sweet and ginger without being too overpowering. I will make these every year for sure.
Melt margarine or butter in a saucepan over low heat. Slowly stir in the sugar, syrup and spices. Let cool.
In a large bowl, mix together baking soda and water. Add egg and beat well.
Stir in flour and margarine mixture. Mix well.
Refrigerate overnight.
Roll out on a well-floured surface until very thin. Cut into desired shapes and place on a greased cookie sheet.
Bake at 350 degrees F for 6 to 8 minutes, or until golden brown.