Peperoni Ripieni ( Italian Stuffed Bell Peppers With Eggplant)
Chickee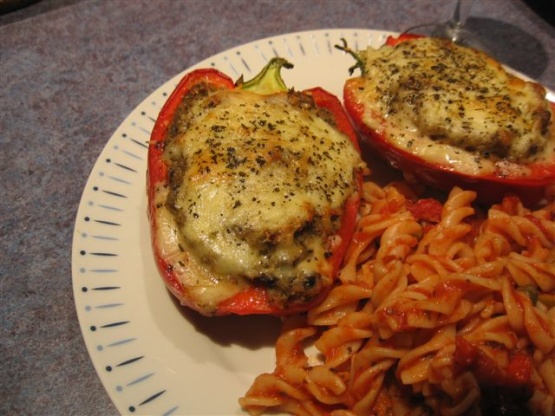 A traditional delicious Italian stuffed pepper with eggplants with a nice presentation.

This was a lovely recipe, a little fiddly but worth it. I used dried basil, and although I did think it looked like a lot of basil I tasted it as I added it and found that it was an adequate amount. I grilled (broiled) my eggplant as it doesn't absorb as much oil this way. I did find after serving this that it wanted a little marinara sauce over the top. Could be a nice starter for a dinner party. Thanks!
Salt out eggplants by adding salt and allow to stand 10 minutes until they sweat.
Wash eggplants again to ensure the bitterness is removed.
Heat enough olive oil in a fry pan and saute the eggplants until they become soft. Sauteing can be done in batches.
Remove eggplants to a food processor and pulse for a few seconds.
Add egg, basil, breadcrumbs, salt and pepper to taste, and mix.
In the meantime, preheat oven to 200°C.
Cut off tops of green peppers and remove seeds.
Arrange bell peppers in a casserole dish with the open part showing.
Distribute the eggplant stuffing mix to the bell peppers.
Top each pepper with mozzarella cheese.
Spray Pam onto the dish and add the water.
Cover with a tight fitting lid or aluminum foil.
Bake 30 minutes or until the peppers are tender.