Penzey's Tomato Basil Green Beans
KateL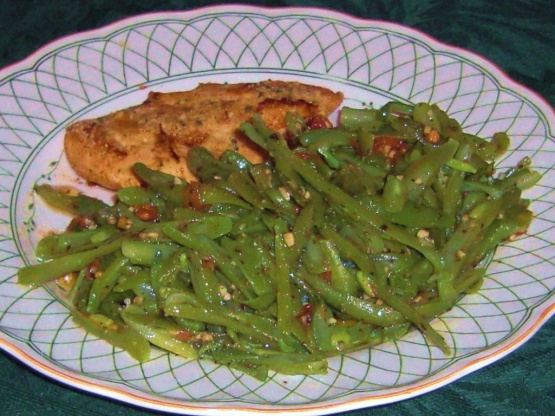 This recipe is from a Penzey's catalog from several years ago. It is also very good with dill instead of basil, and I plan to try with oregano next time. Be sure to use plum (roma) tomatoes which are meatier than other types. Also, the cooking times are for whole green beans; I buy a big bag of frozen whole tender young beans at a warehouse club or Trader Joes. I have reduced the amount of oil to 1/4 cup from 1/2 as originally written, based on a review and my own preference also.
I found these to taste very good, but they were cold by the time they set for 5 - 10 minutes and then they had to be reheated. Plus the whole process was a little labor intense. But I like fresh veggies, so worth the work, but wouldn't prepare every day.
Fill a large pot approx 2/3 with water and bring to a boil. Add the tomatoes and cook for 30 seconds. Remove with tongs and put in a bowl with cold water. After a few minutes, remove the tomatoes, and peel, core, and finely chop them. (Don't drain the boiling water - you'll want this for the beans).
Place the oil in a large skillet over low heat. Add the chopped tomato, garlic, and basil. Simmer for 15 minutes.
While tomatoes are simmering, wash and trim the green beans. Cook in boiling water for 7-10 minutes depending on how small & tender your beans are.
Drain & briefly rinse the beans. Place in a serving bowl. Pour the tomatoes over the beans and toss to coat. Add salt and black pepper to taste. For best flavor, cover and let stand 5-10 minutes before serving.