Penny's Leftover Spaghetti Pie
Prep 10 mins
Cook 45 mins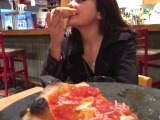 Leftover sauce and spaghetti? No problem! Nobody complains about leftovers in my house. This will not last! I use the pre-shredded Italian cheese mix from the grocery for an easy prep.
2 cups spaghetti noodles, cooked
4 cups spaghetti sauce
2 cups cheese, shredded
2 eggs, lightly beaten
1 cup parmesan cheese, grated
kosher salt & freshly ground black pepper
1 teaspoon dried Italian herb seasoning
Directions
Preheat the oven to 350 degrees.
Grease a casserole dish with olive oil.
Toss the pasta with 2 beaten aggs and the 2 cups of shredded cheese.
Add the salt and pepper and mix well.
Place the pasta in the casserole evenly.
Spread the sauce evenly on top of the noodles.
Top with the Parmesan and sprinkle with the dried herbs.
Place the casserole on a baking sheet if it's in danger of bubbling over the top.
Place in oven and cook for 40 minutes, or until the dish is hot and bubbling and Parmesan is slightly browning.
Reviews
Most Helpful
This was a wonderful way to use leftover spaghetti sauce! Great flavor, I will make again!
Great recipe for leftover spaghetti! My sauce & noodles were premixed in the fridge & I added a little milk to liven it up. Also used 1 Tbs Penzey's Mural of Flavor which made the homemade sauce even more delicious. Thanks for the keeper!

This pie is really delicious! The tomato sauce, cheese and spaghetti go great together and make for a wonderful dinner. Mmmm! So creamy, thick and yummy! I reduced the sauce to about 2 cups, upped the pasta a tad and used a little less cheese as I was fresh out. It still came out wonderful and Ill certainly make it again. THANK YOU SO MUCH for sharing this keeper with us, Trinkets!
Made and reviewed for the LOVE train event February 2012.