Pennsylvania Dutch Shoofly Pie
Prep 20 mins
Cook 30 mins

This recipe dates back about 300 years, created in Pennsylvania Dutch country and has been described as "a cake baked into a pie shell, or pie with a cake filling." And "so sweet ya have to shoo the flies away from it!" I love it!!
Directions
In a mixing bowl, stir together the flour and sugar.
Cut in butter til crumbly. (Use a pastry blender, knives, forks or your fingers.) I just add it cut up, then use my fingers, pinching and tossing to keep coated.
In seperate bowl, add molasses, soda and cinnamon, and slowly pour in boiling water. Beat til mixture is foamy.
Stir half of the crumb mixture into the molasses mixture.
Pour into pie shell.
Sprinkle top with remaining crumb mixture.
Bake in 350 oven 30-40 minutes til pie is set/firm, bubbly and lightly browned.
Cool til warm, and serve topped with whipped cream or vanilla ice cream if desired.
Most Helpful
Bad! that is all i can say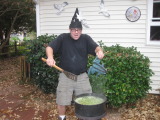 This recipe wasn't very good AT ALL. After baking as directed for 40 minutes, the filling was still liquid and I had to keep it in the oven an extra 10-15 minutes to get it even a little bit thicker. Also, I don't think it had enough butter in it...the crumb mixture was very floury and the pie didn't have a very smooth flavor to it.