Pennsylvania Dutch Red Beet Eggs and Pickled Beets
Kats Mom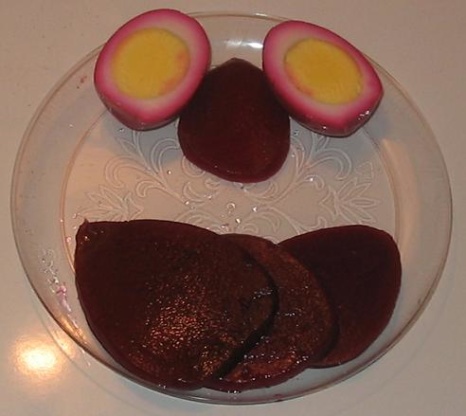 These are simple to make and my family's favorite. We prefer these because they use less sugar than some other recipes and no brown sugar at all. I never cared for beets until I tried these. From my Best-Loved Pennsylvania Dutch Recipes booklet that, sadly, is falling apart page-by-page. The longer they marinate, the redder the eggs become. Great in salads and a beautiful decoration on any platter. NOTE: Prep time does not include hard-boiling eggs or marinating time. 09/16/07 - There are two basic types of red beet eggs and this is my favorite. If you use cider vinegar and add cloves, cinnamon and allspice these become more like spiced apples and closer to Pickled Red Beets. Since these spices can trigger my asthma, I find this simple recipe perfect.

Top Review by lact51
Having lived in and around Dutch country all my life, this is the closest thing to what I've been making for years. I use cider vinegar and I put the eggs in the mixture while they are warm. The longer they are in the liquid, the better they get! When I make them I wait at least 2 days before I serve them. Mix the vinegar and sugar AND the beet juice to your taste, add a pinch of salt...no onion or other spices, and you're good to go!
Combine red beets, vinegar and sugar in a pan.
Stir and heat just enough to dissolve the sugar.
Add the eggs and refrigerate at least one hour (I prefer overnight).