Penne With Vodka Sauce & Capicola
lazyme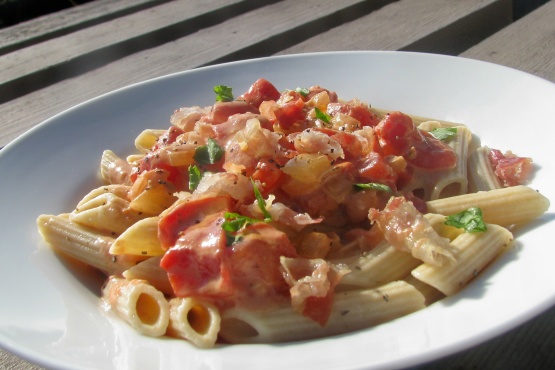 Trying to find new pasta dishes besides the usual spaghetti and meatballs. I think this was originally posted in Eating Well Magazine.
Bring a large pot of water to a boil.
Cook penne until just tender, 12 minutes or according to package directions.
Meanwhile, cook capicola (or pancetta) in a large saucepan over medium heat until crisp, about 4 minutes.
Drain on a paper towel.
Return the saucepan to medium-low heat; add onion and garlic and cook until the onion is translucent, about 1 minute.
Increase heat to high; add vodka and bring to a boil.
Boil until reduced by about half, about 2 minutes.
Stir in tomatoes, half-and-half, Worcestershire sauce and crushed red pepper to taste; reduce to a simmer and cook until thickened, about 10 minutes.
Drain the pasta; serve topped with the sauce and sprinkled with the capicola (or pancetta), basil and pepper.