awalde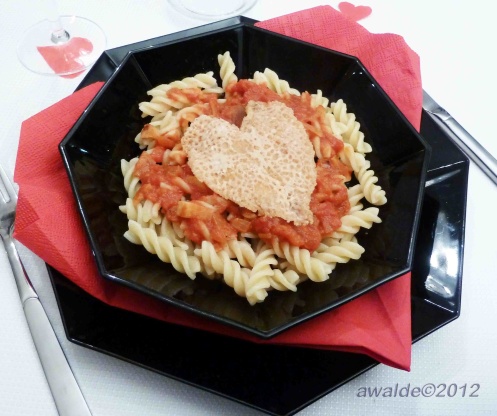 I can't recommend this recipe enough. It is so simple to make and so delicious.

Top Review by awalde
Thanks Evelyn for this delicious pasta dish!
We prepared this for Valentine's Day using fusilli instead of penne.
This is a thousand star recipe for all pasta lover!
WOW and a big thanks from all of us 4!

I prepared the parmesan in this way:
Sprinkle cheese in the center of a skillet into a disk shape in pan.
Using a spatula shape to hearth.
Allow cheese to get slightly golden underneath, then carefully remove it using the spatula.
Cook onion and garlic in butter over moderate heat, stirring, for 5 minutes, or until softened; add vodka and cook over moderately-high heat for 4 minutes.
Add puree and cream and cook over moderate heat, stirring, for 5 minutes.
Stir in ham, Tabasco and salt to taste.
Cook penne until al dente.
In a large serving bowl, toss penne with sauce.
Sprinkle Parmesan over and serve immediately.