Penne With Spinach, Tomatoes and Olives
dojemi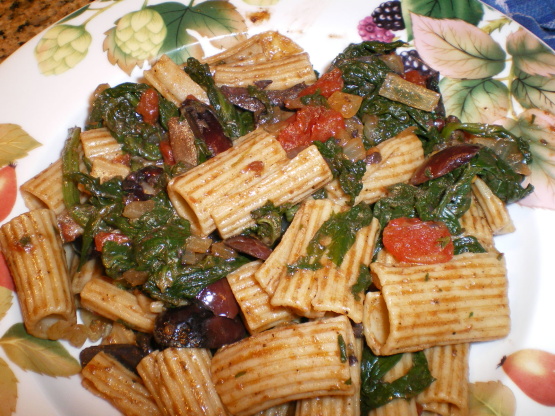 My favorite recipe category: few ingredients, outstanding results! Delightful, healthful, quick and easy to prepare. I strongly recommend that you use only kalamata olives in this recipe. Otherwise I used 9 ounces bagged spinach, 6 ounces pasta myself, but published the recipe as written. From a cookbook called "The Best in the World" by Physicians Committee for Responsible Medicine. This particular recipe came from Au Bar (renamed Je Me Souviens) in Palm Beach, Florida.

This was a huge hit in my family as well. However, I added a whole pound of spinach, additional olives and a jar of sundried tomatoes with herbs because i too felt it needed a bit more sauce.
Heat oil in large, non-stick skillet. Add onion and saute over medium heat for 3 minutes.
Add chopped tomatoes, bring to a boil and reduce heat. Cover and simmer to 20 minutes.
Add sliced olives, chopped spinach and parsley. Cook an additional 5 minutes.
Meanwhile, cook pasta according to package directions. Drain and transfer to a serving bowl. Add spinach mixture and toss gently. Add salt and pepper, to taste. Serve immediately with parmesan on the side.
For Vegan do not use the parmesan cheese.