Penne with Sausage and Rich Pumpkin Sauce
mikey ev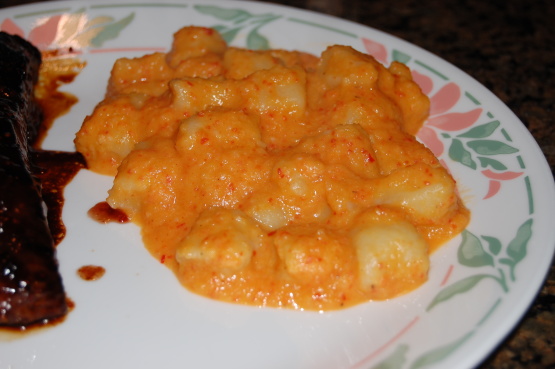 I had tried this twice at 2 different restaurants, one was good, one had me stopping at White Castle on the way home!!! This is my own version as best as I could get it. Very unique, rich, and elegant!

I have had something similar to this at a restaurant, too. I was very happy to try your version. The sauce had a wonderful richness and subtle spiced flavor. I used Italian sausage because I think its flavor along with the pumpkin go very well together. I did add a slosh or two of white wine, like you suggested and that added to the flavor, also. This is something that I would make again and would serve to guests. Husband and I enjoyed it. Excellent job!!
In frying pan, saute sausage til done, crumbling, drain gease, dump into small bowl, set aside.
In same pan, saute in olive oil the red pepper, onion and carrot til very tender.
In food processor, puree all ingredients til smooth*EXCEPT the sausage, penne, pine nuts and fresh parsley.
Pour mixture back into rinsed pan, add sausage and heat over low til heated through.
Serve over hot pasta, garnish with pine nuts and parsley.
*Ifsauce is too thick for your liking, add a little dry white wine to it.