Penne With Roasted Cherry Tomatoes
lauralie41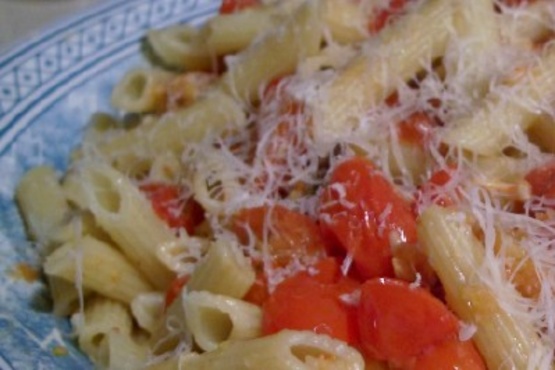 Very simple, very yummy. This is my favorite kind of cooking...just a few quality ingredients that really compliment each other. Adapted from Paola di Mauro, but given to me by my dad who is a sophisticated foodie who also appreciates simple tastes.

Oh, Liza...this is fabulous!! Very few ingredients, simple to prepare, great flavor. I added a tiny bit of balsamic vinegar - not because it was needed, but because I like balsamic vinegar with everything! This one is going in the favorites file. Thanks for sharing.
Preheat the oven to 425 degrees.
Line bottom of a casserole dish with tomato halves in a single layer.
Pour oil on top, season with salt and pepper.
Sprinkle cheese and breadcrumbs on top.
Bake until tomatoes have wilted, about 20 minutes.
Meanwhile, bring a pot of water to boil.
Season with enough sea salt so that water is pretty salty.
When tomatoes are just about done, add penne to water and cook until al dente.
Scoop out a cup of the pasta water and reserve.
Drain pasta and toss right into casserole and fold pasta into tomato mixture, adding 2-3 Tablespoons more olive oil, to coat.
Taste, adjust seasoning, if it is dry, add some of the pasta water.
Serve, passing more grated cheese at the table.
I have added chopped fresh basil when tossing the pasta and really love the flavor it brings.