Parsley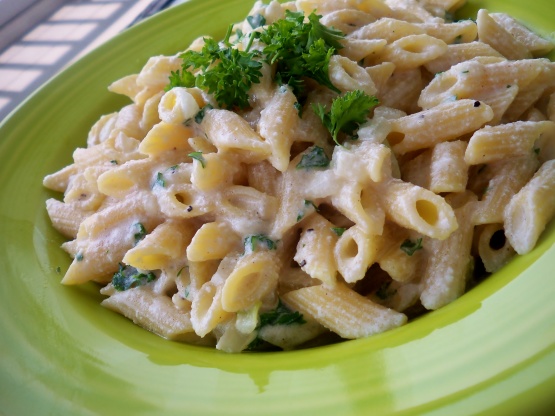 Nice simple pasta, light and tasty. Great for a light meal or a summer dish.

Very good and easy to make. I liked the consistency of the sauce but it was just a bit bland. The pinch of nutmeg and cinnamon were nice, but I thought it needed a little something else. I used part-skim ricotta but otherwise followed the recipe as written. Thanx for sharing!
Bring a pot of salted water to a boil, add the penne and cook for 10 minutes or until tender but still firm to taste.
In the meantime, finely slice the onion and cook in a small pot with some olive oil or butter. Heat a 1/2 cup of water, add in the vegetable bouillon. Once the onion is properly cooked (should be tender), add everything else in, including the bouillon -- salt and pepper to taste. Stir the sauce frequently over low heat, should turn into a nice even mixture.
Once the pasta is finished cooking, drain and add to the sauce. Stir a few times, turn off the heat, cover the pot, and let set for 5 to 10 minutes.