Penne With Peas, Grape Tomatoes and Ricotta
BarbryT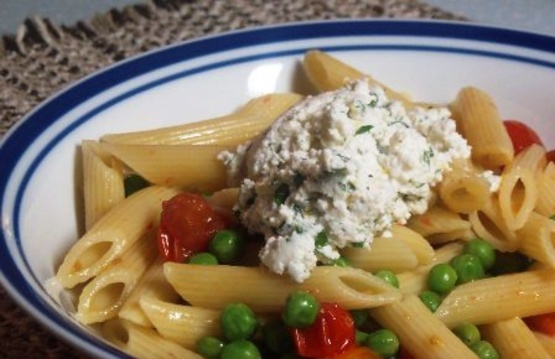 A great pasta dish I got from Good Housekeeping.

Top Review by Thea
This basic recipe became an outstanding casserole!! I added some Italian seasoning, 2 pinches red pepper flakes, 1 medium onion diced, 1 tsp garlic, splash of milk, 1 cup or so of mozzarella cheese and a couple sprinkles of nutmeg. Mixed it all together and through in a casserole dish at 350 degrees F for about 40 minutes. Thanks so much for the great idea! It was really great!
Heat large covered saucepot of salted water to boiling over high heat.
Add pasta to boiling water and cook as label directs.
While pasta is cooking, in medium bowl, combine ricotta, parsley, Romano, lemon peel, 1/2 t salt, and 1/4 t pepper; set aside.
In 12-inch skillet, heat oil over medium-high heat.
Add tomatoes and cook 6-8 minutes or until tomatoes burst and are heated through, shaking pan frequently.
Remove skillet from heat.
Remove 1/2 cup pasta cooking water; set aside.
Drain pasta.
To skillet with tomatoes, add pasta with thawed frozen peas and reserved cooking water; stir to combine.
Spoon into 6 bowls and dollop with ricotta mixture.