Penne With Lemon Chicken Strips
Prep 10 mins
Cook 20 mins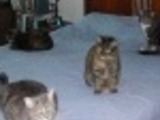 A quickie, 1 dish meal. My co-worker gave me this recipe. She knows I'm a vegetarian so I told her I could make it with meatless chicken strips! It's delicious, low fat and very healthful. I found out recently that the combination of corn and spinach is quite good based on Bobtail's recipe (#158299). If you make this with a chicken substitute it won't take as long to cook.
Directions
Cook pasta in lightly salted boiling water according to package directions. Drain, reserving 1/2 cup of the pasta water.
Meanwhile, heat a large frying or sauce pan; add oil and onion and saute. When the onion is soft and translucent, add the chicken and saute until it is almost cooked through (depending on how large your chicken pieces are, around 15 minutes).
Then add the corn, white wine and reserved water from the pasta, and bring to a boil. Add lemon juice and cook 1 minute.
Add the reserved pasta, and stir to heat.
Add the chopped spinach and toss to combine. When the spinach has wilted (about 2 minutes), stir in the parmesan cheese and serve.
Most Helpful
This was great! I am always looking for new things to do with chicken and pasta. I did add the corn even though dh doesn't usually care for corn, but he said this dish was so good he didn't even care! :) We loved the lemon chicken and the fact that this has spinach in it so it's healthy for us and the kids. Great flavor, I can't think of anything I'd change! Thanks, I will make this one again!
A GREAT CHICKEN DISH! Made pretty much as directed, right down to the penne pasta! However, when it came to the spinach, I added it & the parmesan cheese at the same time, took a long look at it (for timing, only!) & served it ~ AND I was very happy with the results (wilted spinach or not)! Thanks for sharing your recipe! [Made & reviewed as a kidnapped recipe in the Aus/NZ Recipe Swap #16]
"For Australia/New Zealand swap #16" Had much left-over rotisserie chicken, already well seasoned, and mixed grain penne pasta, which requires an aditional 1-2 minutes of boiling. Did not add the corn (personal preference), but prepared as listed. The bagged baby spinach added a nice crunch, and i think possibly some garlic and sliced water chestnuts may add some additional crunch and texture. For the 2 of us, there is plenty left for another meal -- to which I plan to add a little cream. (My lemons were HUGE and very juicy - perhaps a measure of lemon juice would be helpful -- we DO like lemon flavored anything !!) Thanks, Kumquat, for yet another tasy chicken dish to add to the repetoire !!