Penne With Chicken and Gorgonzola Cheese
DuChick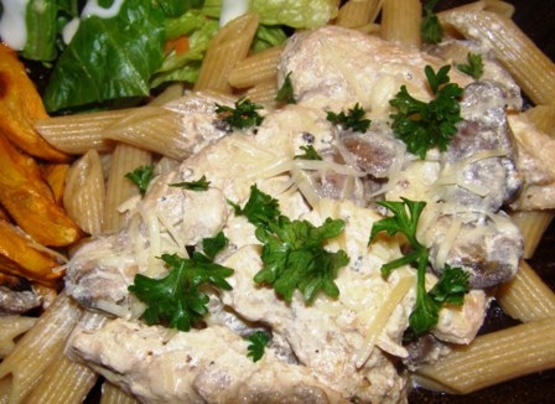 I found this recipe years ago and it instantly became my husband's favorite. I make it so much that I now do it by memory and with my own style and touch. Caution--it's addicting!
Sprinkle chicken with 1/4 teaspoon each salt and pepper. Heat oil in a 12-inch nonstick skillet over medium high heat. Add chicken and brown 2 minutes per side, until edges are light brown.
Add mushroom and cook, stirring often until softened, 2 to 3 minutes.
Stir in cream and cook until mixture is reduced by half, about 3-4 minutes.
Stir in 1/4 cup Gorgonzola and parmesan. Simmer, stirring about 1 more minute, until cheeses melt. Stir in remaining salt and pepper.
Toss hot pasta with sauce then sprinkle remaining 1/4 Gorgonzola and parsley on top. Warning: This is not a low fat meal, so you should enjoy immensely.