Penne with Artichokes, Pancetta, and Thyme
TishT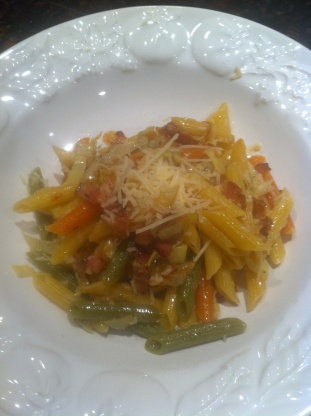 My husband tossed this together last night and it was a resounding success. I didn't write down the exact measurments as he is a handfull cook but this is pretty close. It was light and tasty! (Similar to Lumache AI Carciofi)
Put your water to boil and cook pasta.
Drain the can of artichokes and slice into slivers.
Melt butter in a large skillet over a medium heat.
Add the onion and cook until it softens and turns a rich gold color.
Add the pancetta and continue sauteing until the pancetta is nicely browned but not crisp Once the pasta is almost done, return the sauce to the heat.
Add the artichoke hearts, salt, black pepper and thyme and boil away any excess liquid, leaving just a little moisture.
When the pasta is cooked al dente, drain it and toss it with the sauce, adding the grated cheese.
Taste for salt and pepper and serve at once with extra fresh grated parmigiano to top if desired.