Penne Salad With Peppers and Peas
Nimz1466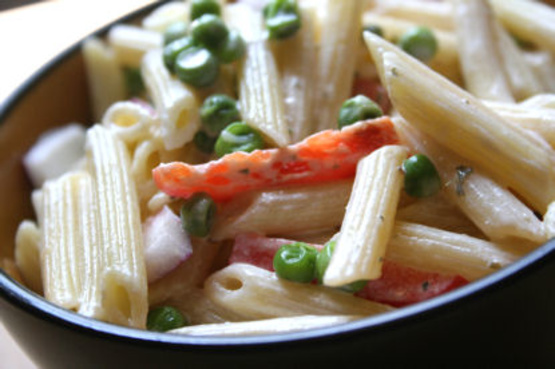 Easy to make and can be made up to 2 days ahead. This is from a healthy cooking cook book.

We loved this. At first taste I thought it was too sweet, but the flavors kind of grow on you. I really enjoyed this. I only cooked my peas for a couple of minutes because I like them a little crisp in a salad like this. I did not use the nonfat or fat free ingredients because I didn't have them. This would be perfect for a barbeque get together. Thanks UPDATE: This is so much better after it sits in the refrigerator overnight. Dave just raved about it. Thanks
Combine sour cream, milk, mayonnaise, sugar, parsley, vinegar and black pepper in a blender. Process until smooth and creamy. Cover and refrigerate 45 minute.
Combine cooked pasta, peas and bell peppers into a large bowl.
Pour dressing over top and toss slightly until ingredients are coated.
Serve immediately or cover and refrigerate and serve within 2 days.
Time does not include the 45 minutes for the dressing in the refrigerator.