Penne Pasta With Feta and Summer Vegetables
Jubes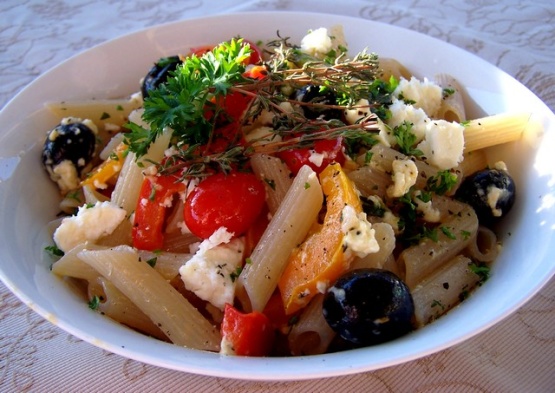 A quick and easy summer pasta with lots of flavours.

This dish was very easy to make and fresh. My friends and I enjoyed it a lot. I changed the zucchini to champignons and used green olives as we didn't have any black ones and this was very yummy, too.
Cook pasta in boiling salted water until al dente. Drain with a little olive oil.
Heat olive oil in a frying pan add garlic, zucchini and both capsicums and stir over high
heat for 2-3 mins or until vegetables are tender.
Add tomatoes and cook for a further 30 seconds.
Stir in feta cheese, olives and thyme.
Cook 1 minute more and season to taste.
Toss vegetable/cheese mixture through the pasta and garnish with chopped herbs.