Penne Pasta With Asparagus Sauce
jrusk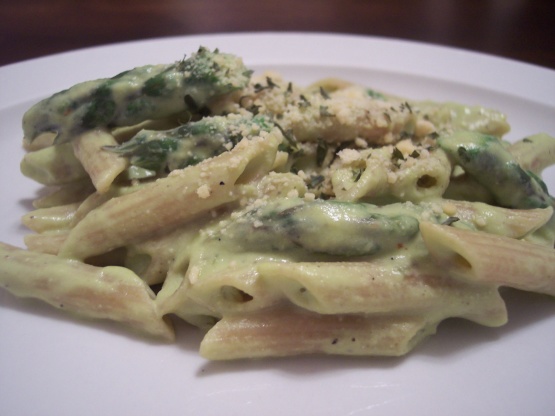 This is an absolutely fabulous pasta side dish I created to go along with my scallops in white wine sauce. It really highlights the scallops. Hope you enjoy!!

I made this with your scallops recipe, and they complimented each other nicely. I do agree with the other posters that it could use garlic though, so I will add it next time. Used vegan parm but otherwise made as directed. I really like not throwing half of my asparagus away, and this will be a great thing to make when you find fat asparagus super cheap.
Cut the asparagus into one inch pieces; reserving the tips.
Cook asparagus in 5 quarts of water until very tender 6-8 minutes.
Reserve the water by using a slotted spoon to remove the asparagus to a colander.
Put the drained asparagus in a food processor.
Cook the tips for 3-5 minutes until just tender.
Remove from water with slotted spoon, reserving the water.
Puree the stems with the lemon zest and oil and 1/2 cup of the asparagus water.
Cook the pasta in the asparagus water to your liking.
Drain the pasta saving 2 cups of the water.
Combine the pasta, asparagus sauce and add asparagus water if the sauce is too thick- a little at a time.
Stir in tips and grated cheese.
Stir until cheese is melted.
Serve with a light dusting of chopped parsley.