Penne Pasta Salad With Roasted Red Peppers and Fresh Basil
JustJanS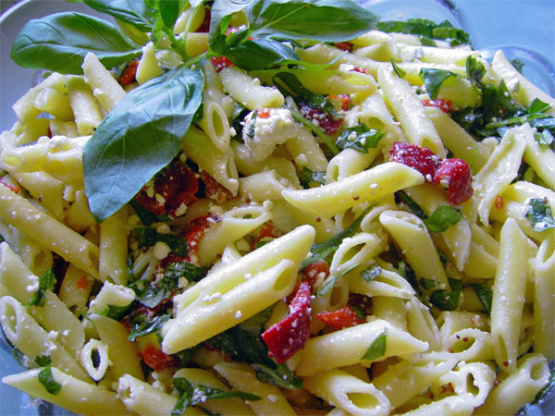 Celebrate the late summer harvest of red peppers with this simple and light pasta salad. You can easily substitute roasted peppers from a jar. This recipe is from an obscure little cookbook with fabulous recipes called "Canada Cooks Pasta". I have a propensity for lemon and increase the amount of zest and juice. As a matter of fact, I increase the feta and basil as well! This is a great brunch, pot luck or buffet salad! Note: Whether you use fresh peppers or jarred, ensure you dry them thoroughly...you really don't want a pink salad!

I was looking for a pasta recipe to suit my ingredients, when I came across this one. Bought the couple of extra things I needed and it wasn't until I was about to start cooking that I realised the recipe is for pasta salad, not hot pasta. I went ahead and made it anyway, and we all enjoyed it.<br/><br/>Changes I made were to use about 3/4 of a small jar of roasted red peppers (all I had, and probably ten peppers worth but they were small), some oil from the jar (which contained herbs and garlic), a little olive oil and a sprinkling of dried chilli flakes. I heated the sauce ingredients tossing the basil in towards the end and I added the feta (a 200 gram packet) to the drained pasta. I also added extra oil at this point as there was no real sauce as such, and I realised later I'd initially only used about a quarter of a cup, not a half. Served it with grated parmesan.<br/><br/>Will make it again as a hot dish, adding some onion, garlic and maybe olives. I will also add a bit more of everything as doing the conversion the recipe calls for 225 grams of fetta and I used less. The flavours were really good as is though and I'm sure it would make a lovely pasta salad, too. Thanks Highland Lass!
Slice peppers into ¼" wide strips, lengthwise. Place strips in a large bowl.
Whisk together the olive oil, lemon juice, lemon rind, salt and pepper.
Toss dressing with the red pepper strips.
Stack the basil leaves on top of one another and roll up. Slice the leaves crosswise into thin ribbons. This is called a "chiffonade" in case you want to impress your friends.
Toss the basil leaves with the peppers. Set aside to marinate for 1 hour.
Cook the pasta al dente in large pot of boiling water with 1 tablespoons each salt and olive oil. Drain, rinse briefly and cool to room temperature.
Combine pasta with marinated peppers and dressing.
Add crumbled feta cheese. Taste and adjust salt, add liberal grindings of black pepper.
Cool salad in fridge 1-2 hours before serving or salad may be chilled overnight and brought to room temperature 1 - 2 hours before serving.
Garnish with basil chiffonade.