Penne Pasta and Artichoke Salad

This makes a pretty and delicious luncheon salad, especially when served on a bed of shredded romaine lettuce. See note at the end of preparation if you prefer a zesty dressing.
Directions
Toss all ingredients together, cover and chill for about an hour before serving.
NOTE: Original recipe calls for 1 tablespoons dijon mustard (instead of 1 tsp.) and 3 tablespoons red wine or balsamic vinegar (which I omit). That's too strong for my taste, but I wanted to mention it here in case you prefer a dressing with a little more zing.
Reviews
Most Helpful
I definitely could not see making this without the full amount of mustard (I used a dijon/horseradish blend) and balsamic vinegar. I did add a little more of both, plus I added a teaspoon of salt and used only 1 tablespoon of oil. (The lack of salt may have been why one reviewer thought this bland.) It was terrific! I highly recommend it. Had leftovers for lunch the next day:D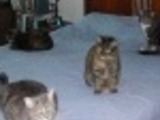 We liked it! Did use the full tablespoon of mustard and 3 tablespoons of balsamic vinegar since we do like a little zing to the salads. Still, it was a little bland. Will try it with even more balsamic vinegar. Pleased I tried it. Thanks for posting.

Great Salad Linorama! Although it was flavorful without them, with your permission I added the original amounts of Dijon and red wine vinegar. That gave it just the right "zing" for DH and me. I'll be adding this into my list of salads to take to work for lunch. Thanks!