Penne Con Gorgonzola E Pomodoro
Penne with Gorgonzola Cheese and Tomatoes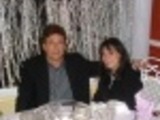 First, let me state that I am quite put off my gorgonzola cheese. That being said, this recipe was delicious (although not for the diet-conscious)! I couldn't find the right size can of Italian plum tomatoes, but I did find Italian cherry tomatoes. Everything else was exactly as posted, and it was absolutely terrific. Definitely company-worthy! Thanks for sharing this Italian delight. Made for Please Review My Recipe tag game.
Heat olive oil in heavy large skillet over medium heat.
Add chopped onion and garlic and saute until translucent, about 8 minutes.
Stir in chopped tomatoes and basil. Cook until mixture thickens, stirring occasionally, about 20 minutes.
Meanwhile, using spoon, beat butter with Gorgonzola cheese until blended.
Cook pasta in large pot of boiling salted water until just tender but still firm to bite, stirring occasionally. Drain well. Return pasta to pot.
Whisk Gorgonzola cheese mixture into tomato sauce.
Add sauce to pasta and stir to coat.
Season with salt and pepper. Sprinkle with Romano cheese and serve.