teresas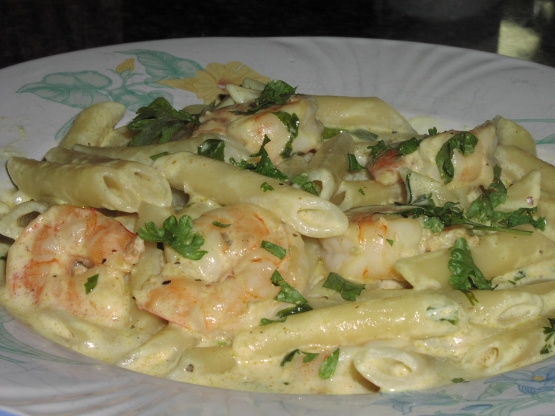 This is out of the 2004 edition of KCTS Chef's cookbook. It was sent in by Antonio Mauro the executive chef from Anton's Pasta Bar in Burnaby BC. The original recipe called for 20 oz of pasta for 2 servings. No wonder the portions are so big at restaurants. I changed it to 8 oz and decreased the half-half also to 8 oz. it was 18 oz. Hope this works. 10/12/13...I finally made this...it sure is restaurant quality...but it still made a lot...I even cut the recipe in half and got at least enough for 2 helpings...just something to keep in mind when making...you can taste just a slight hint of the curry...it's not overpowering...it's really quite easy to prepare...just have all your ingredients ready...

Totally marvelous. We love pasta and this was smile making. I did use fat free dairy to to make it more diabetic friendly. This one was especially well loved by DH (yay). The prawns were tender and just so yummy that we could have kept right on eating. Great dish for company too.
Saute' prawns, green onions, cilantro, garlic, curry paste and curry powder in margarine.
When prawns are half cooked, add wine and sour cream and reduce; add half-and-half.
Season with salt and pepper.
Bring to a simmer and blend in cheese. Add penne and garnish with parsley.