Redsie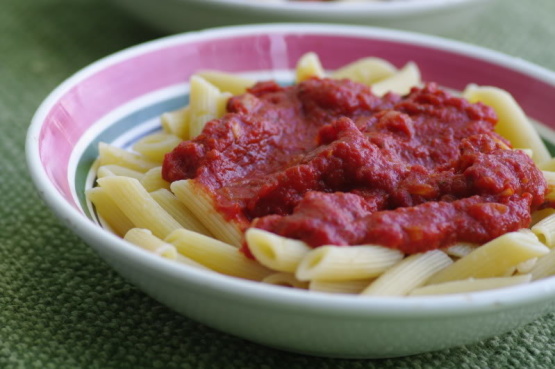 This is my all-time favorite pasta dish, especially since it's non-dairy. I like it hot, but you can adjust the red pepper flakes to make it as hot or mild as you like.

Well this was just wonderful! I didn't expect anything sensational from such simple ingredients, but the more we ate the more we loved it. I thought the basil and parsley amounts looked small for fresh herbs, so I used the dried herbs instead (same amounts.) It was just right, and I served it with spelt rotini. This recipe is now on my "make often" list. Thanks Mirj!
Saute garlic and onion in olive oil until transparent.
Add crushed tomatoes and spices and cook over low heat, stirring occasionally, about 30 minutes.
Cook pasta in lightly salted, boiling water until cooked el dente.
Drain pasta and place back in the pot and add some of the sauce and gently toss until coated.
While serving, add additional sauce if desired and top with freshly grated Parmesan cheese.
Left over sauce can be refrigerated or frozen and reheated.
Use a bit more red pepper if you prefer it hotter.