Redsie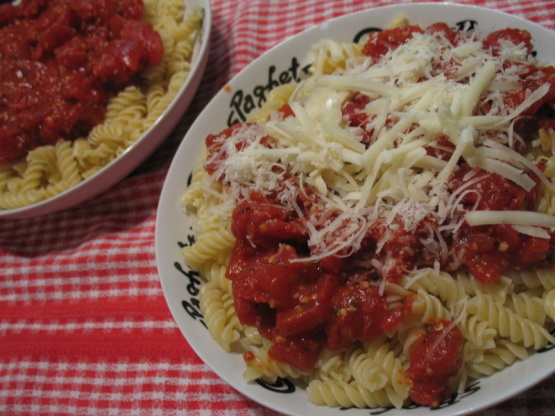 A great smooth pasta dish with a kick. Arrabiata means angry in Italian. By pushing the sauce through a mesh strainer or moulie makes the sauce like one you would find at an expensive Italian restaurant.
Put oil in a heavy saucepan over medium heat.
Add garlic cook for 5 minutes until beginning to turn golden, careful not to burn.
Turn down to medium low.
Add chili and stir.
Add Tomatoes and sauce and stir.
Put a plenty of salted water on to boil in a big saucepan.
Cook sauce for about 20 minutes stirring occasionally.
Cook penne until al dente.
Strain pasta.
Push sauce through moulie or meshed strainer into saucepan with the back of a spoon getting as much through as you can.
Heat and add 1/2 cup of pecorino cheese.
Taste for seasoning.
Add cooked penne and toss.
Serve hot with extra pecorino cheese at the table.