eabeler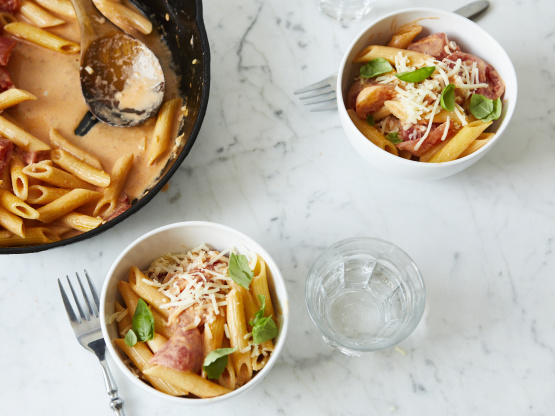 THE ABSOLUTE BEST PENNE ALLA VODKA ANYWHERE!! CREAMY, RICH, TOMATO, VODKA SAUCE, WITH PROSCUITTO. I GUARANTEE YOU WILL LOVE THIS DISH!! *tip* squeeze the tomatoes to drain them so the sauce isnt watery

I did make a few minor modifications to this recipe. I had made it twice before and decided to change it. I added 3 shallots to the first step and used crushed tomatoes since we don't favor a chunky sauce, and I added some oregano. However, I STILL had to puree everything in a blender so that the prosciutto flavor blended better. My husband and sister loved it! I guess the third time really is the charm. This got added to my recipe collection, we'll definitely be making again.
In a wide pot big enough to hold all the pasta and sauce, melt the butter.
add the garlic and cook until golden brown.
stir in the proscuitto and cook for a a minute or two.
add the tomatoes, crushed pepper, pepper and salt.
simmer for 5 minutes.
stir in the cream and cook for 2 minutes stirring alot.
add the vodka and cook until it no longer smells strongly of vodka (about 3-5 minutes).
cook the pasta as directed on box but al dente.
add the pasta to the pot with the sauce and mix until it is all coated over the pasta.
toss with the cheese and serve immediately.