ALH7401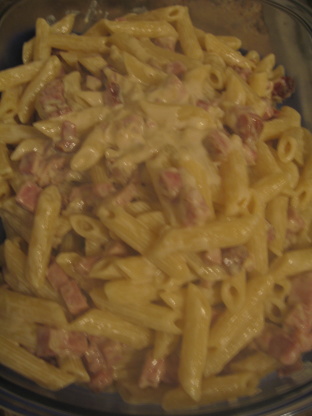 This is a very tasty and quick pasta meal. I got the recipe years ago when I was still at school and went home with one of my friends to have dinner at her house. Her family traveled to Tuscany every year and this was their version of a pasta dish they had eaten there. Serve with a side salad and some crusty bread. You can use any type of pasta really if you haven't got penne pasta, it's really nice with tortellini as well.

Easy and the family loved it. Used half and half, instead of cream. Great use leftover ham from Xmas or Easter.
Heat the oil in a skillet.
On a high heat, quickly fry the ham or prosciutto until starting to brown, keep stirring it continuously to stop it from burning.
Turn down to a low heat or if cooking on an electric hob turn it off, pour in 250 ml of cream.
Add the cayenne pepper and stir in the parmesan.
If the sauce seems really thick add some more cream, the pasta shouldn't be dry, but neither should it swim in sauce.
Stir in the pasta and serve straight away.