ImPat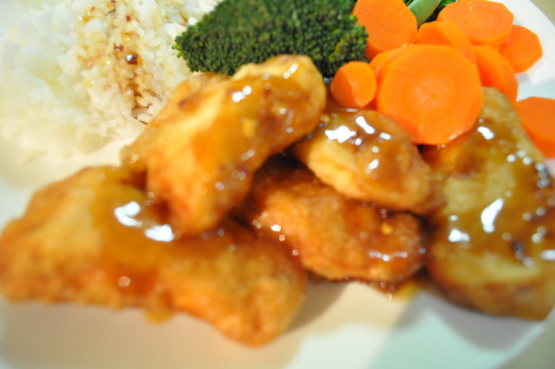 This is a dish we were served one night on one of the Princess Cruise ships. Tender, with a wonderful flavour. Of course when they served it, it was "dressed to the nines". When I make it at home, I serve it with rice and a vegetable. ;) This is also great served in a wrap. NOTE: For those thinking of substituting Splenda for the sugar, please read the review posted by Oolala on Feb 11/09. Thanks Oolala for the heads up.

Absolutely out of this world!! This is the best recipe ever, better than any Chinese take away. All we kept saying was just how good this was. It has gone straight into my favourites and will definitely become a regular feature in our house. I too beat the egg whites into stiff peaks and it made for a lovely coating for the chicken. I served ours over vegetable, egg, fried rice and it was absolutely perfect. Thanks for a great post Diana.
In a small bowl, mix together the mustard, sugar, soy sauce, sesame oil, chili peppers (if using) and vinegar. Blend thoroughly and set aside.
Coat chicken pieces in cornstarch. Dip into beaten egg whites.
Saute the chicken in hot oil until crispy and brown.
Drain oil from the pan and add sauce.
Cook for 5 minutes over low heat.