Kana K.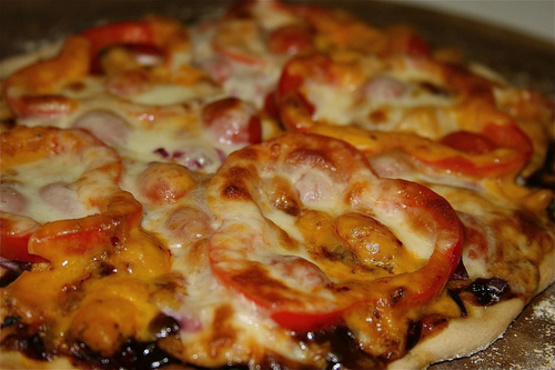 Stolen and modified from a Rachel Rae Recipe, this is so good.

My HB said this is better than the Pepperoni pizza we used to get. I still love pepperoni pizza more. I used the turkey breast leftover. It still worked great. I am very happy you post this . Finally I have an meat alternative pizza recipe. Thank you , Kana.
For Chicken:.
Heat a grill pan over high heat.
Drizzle oil over chicken cutlets.
and season with Montreal Seasoning.
Grill chicken 3 or 4 minutes on each side. Slice chicken into very thin strips.
Sprinkle the edges of your boboli with sesame seeds.
Cover the pie with 3 tablespoons of Hoisin sauce and barbecue sauce. Cover pie with cheese. Top with sliced chicken and scallions and red pepper. Bake in pre-heated oven at 450 degrees for 10 to 15 minutes, until crisp and cheese is bubbly. Cut into slices.