Peggy's Eggplant Casserole
Rita1652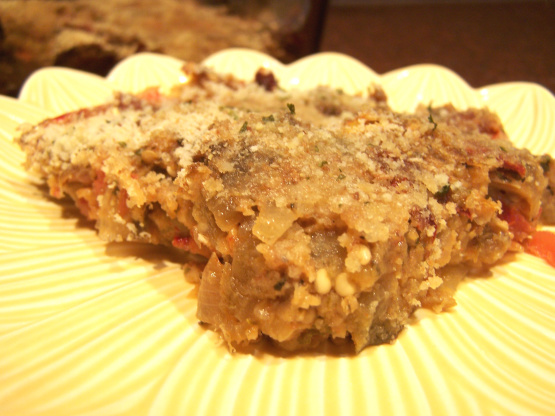 My mom's original recipe. Use your food processor not only to process the ham, but to chop the vegetables, too. Freezes well.

This sure isn`t a pretty dish but it sure does taste pretty good! I sauteed the onions, peppers and garlic in in Pam sprayed pan. Used prosciutto in place of the ham. The eggplant i cooked in the microwave then finished in the pan with the onions. I did make half the recipe. Plated it on tomato sauce. Next time I would give a light layer of tomato sauce instead of the butter then top with grated cheese. Thanks!!!
Preheat oven 350 degrees.
Lightly butter 13"x9" baking pan.
Peel and cube eggplant. Boil in just enough water to cover until very tender; drain well and set aside.
Using a food processor, process ham until coarsley chopped; set aside.
In a large skillet or Dutch oven over medium heat, fry together onion, bell pepper and garlic until tender.
Add basil, salt, black pepper, cayenne, paprika and reserved ham, stirring well. Cook about 5 minutes.
Turn off fire.
Add eggplant, mashing well and breaking up chunks.
Add to the eggplant mixture 1/2 cup breadcrumbs and 1/4 cup Parmesan cheese; combine.
Turn mixture into prepared baking pan, smoothing top.
Sprinkle top with the additional breadcrumbs and Parmesan cheese.
Dot with butter.
Bake 350 degrees about 20 - 30 minutes or until crumbs and cheese on top become slightly browned.