Peek-A-Boo Caramilk Cookies
Chef Dee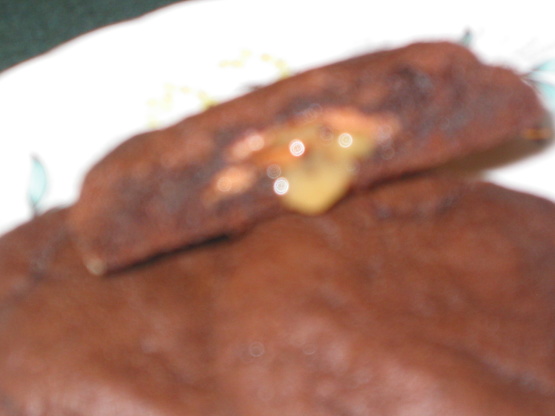 So called, because there is a piece of caramilk bar hidden in the middle of each cookie. I've adapted the recipe from Canadian Living. The picture was taken while they were still warm.
Melt the chocolate chips in the microwave.
Beat butter with sugar, then beat in eggs.
Add melted chocolate and vanilla.
Beat.
Whisk together the dry ingredients.
Stir this by hand into the butter mixture.
Cover and chill for 30 minutes.
Break each Caramilk bar into squares.
Roll dough into balls using 1 tablespoon of dough.
Make an indentation in the dough, and put the caramilk square into it, seal the dough around it.
Reshape into a nice circle and press down slightly.
Bake on sprayed pans@ 375° for 10 minutes.