Pecorino-Crusted Chicken With Mushroom Salad
Chilicat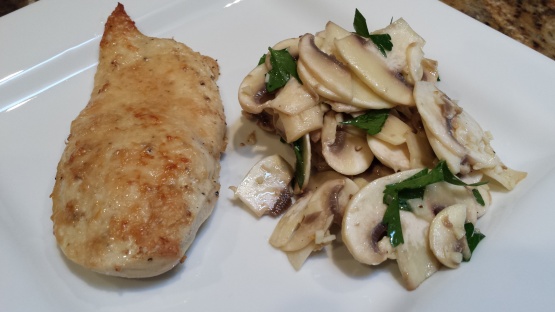 A quick weeknight dinner. You can let the mushrooms stand while you are preparing your chicken. From Bon Appetit magazine. Adjusted slightly for my taste. The 20 to 30 minutes standing time for the mushrooms is not included in prep and cooking time.

I wanted to make a light dinner using chicken as my protein, and this fit the bill perfectly! The mushroom salad was bright and citrusy, and the garlic made it smell divine. The chicken cooked perfectly and was nice and moist, although I ended up moving the oven rack closer to the broiler because things weren't browning fast enough. All in all, though, it was a quick and delicious dinner!
Toss the first 5 ingredients in a medium bowl. Season generously with salt and pepper to taste. Let it stand at room temperature, tossing often, until the mushrooms soften, about 20 to 30 minutes.
Meanwhile, preheat the oven to 500 degrees. Line a rimmed baking sheet with foil; set a wire rack inside. Season the chicken with salt and pepper to suit your taste; place on the rack. Spread mayonnaise on the chicken and sprinkle with cheese.
Bake for 5 minutes. Turn on the broiler. Broil until the chicken is cooked through and the cheese is golden brown, about 5 minutes. Serve with the mushroom salad.