Pecans, Bacon, Caramelized Baby Onions,& Gorgonzola Cheese O
Barb G.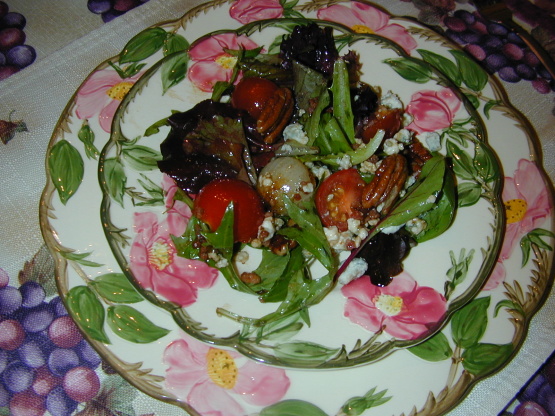 This salad is sweet, salty, smokey, crisp, crunchy, tangy and creamy! You've got crunchy and salty Pecans and Bacon, Sweet baby onions. Creamy, salty cheese. A lively tangy balsamic dressing. Over bitter young greens. Enjoy!
This salad is different, is very good with lots of flavor. Easy to make. I toasted the pecans first in a little butter on top of the stove, Caramelized the onions and made the dressing all in the same pan.Made the recipe as stated. We loved all the flavors, I will be making it again as it is a very good salad. Thank you Rita for another yummy recipe.
In a hot pan heat butter add onions and brown sugar cook till caramelized remove onions and set aside.
Deglaze pan with vinegar add sugar whisk in oil, turn off heat whisk in herbs and sugar.
Toss half the dressing into greens.
Plate greens top with onions, cheese, bacon,tomatoes and pecans.
Drizzle with remaining dressing.