diner524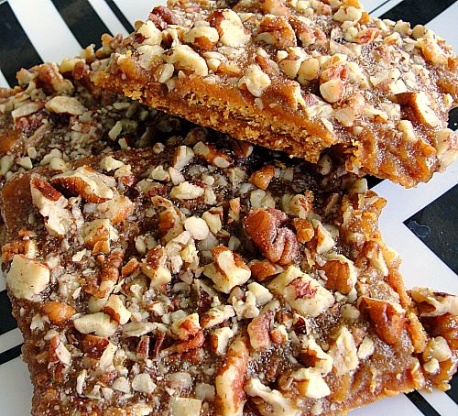 These little toffee squares make a great addition to a holiday gift basket or tin. Super easy to prepare and everyone wants more!

These are soooo good! Very easy to make and stored very well. I used the cinnamon graham crackers because that was what I had on hand. Think I will always use them because they added a nice little hint of cinnamon. I definitely will make these again.
Line a 10 x 15 inch jelly roll pan with graham crackers.
Melt butter and brown sugar in a saucepan over medium heat; bring to a boil and cook exactly 2 minutes. Pour Mixture over graham crackers. Sprinkle with nuts.
Bake at 350 degrees for 8 to 10 minutes. Remove from oven and let cool slightly on a wire rack.
Cut in to small squares to serve.