ImPat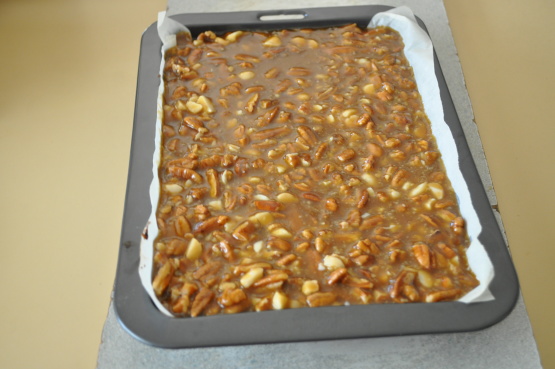 Shortbread topped with pecan studded toffee. Mmm… delicious! You can omit the cornflour and swap it for more plain flour if you wish, but the cornflour gives the shortbread a lighter texture.

Top Review by ImPat
Made this for the DS to take to his adult music recreation group where they very much enjoyed it. I baked at 170C fan forced oven and the base was a lovely golden colour after 18 minutes. I used a mix of pecans (4oz) and macadamias (2oz). Thank you Noo, made for Please Review My Recipe.
Preheat the oven to gas 4/180/350 degrees. Grease and line a 7x11" pan with silicone paper.
Put the coffee into a bowl and pour the hot water over. Leave to infuse for 4 minutes, then strain.
Cream the butter, peanut butter, sugar and coffee together until light. Sift the cornflour and flour together and mix it in to wet mixture to form a smooth dough.
Press the dough into the pan and prick all over with a fork. Bake for 20 minutes.
For the topping, put the butter, sugar and syrup into a pan and heat until melted. Bring to a boil, allow to simmer for 5 minutes, and then add the nuts.